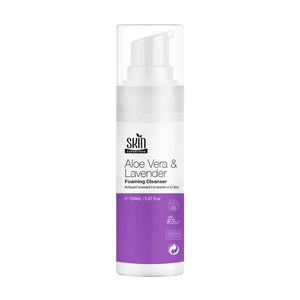 Description:
Our active, calming foam cleanser is 97.92% natural and embodies a liquid cleanser that becomes a generous, sumptuous foam designed to thoroughly eliminate dirt, oil, impurities, environmental contaminants and makeup.

Key ingredients Aloe Vera and Lavender contain intense anti-inflammatory, antimicrobial and antioxidant properties; Aloe works to retain moisture in the skin barrier to prevent dehydration and Lavender helps to balance the skin's natural pH levels as well as kickstarting the growth of new, healthy cells.

A touch of Licorice Root is also added here to make use of it's skin brightening powers. Incorporating this into your regimen can tackle pigmentation and scarring, supporting a more even tone with a supple appearance!