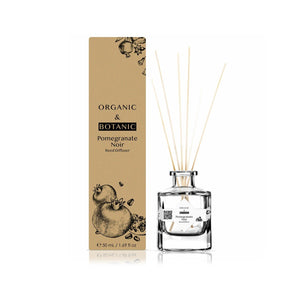 Description:
Pomegranate Noir Reed Diffuser improves the atmosphere thanks to its delicate floral and fruity scent. In fact, this option mixes pomegranate and mandarin with soothing notes of patchouli as well as berries. All in all, this is bound to fill your favorite house divisions with lasting invigoration, uplifting your mind, body, and soul. The blended fragrances start to produce noticeable effects almost immediately after placing the sticks in the vial. In other words, just a couple of days are enough to create a pleasant experience. For intensified results, simply turn the wooden sticks once every few days, releasing new bits of fragrance. Finally, considering this is a disposable alternative, feel free to remove the diffuser once the fragrance is completely absorbed or dries out!
In fact, this option is particularly long-lasting.
Characteristics
Fragrance: fruity with floral notes;
Suggested for: improving your home ambiance, refreshing different spaces, leaving a pleasant fragrance that also renews itself;
This pack contains: a small cylindrical container with liquid fragrance as well as a few wooden sticks to diffuse it;
Capacity: 50 ml.
How to use
Place the Dr. Botanicals Organic&Botanic Pomegranate Noir Reed Diffuser in one of your favorite house divisions. Then, insert the wooden sticks included in the packaging into the vial. Finally, position them apart from each other and shift their placement every few days. This will intensify the results, making sure the diffuser perfumes the space appropriately!