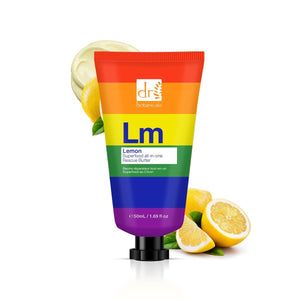 Multi-purpose, award-winning Lemon Butter has had a vibrant makeover in the name of Pride, because resistance is fabulous. Dr Botanicals champions inclusivity and equality - that's why our products are made for every skin type out there. When you buy this limited edition butter, Dr Botanicals is  donating $1 per box to charities that help LGBTQIA+ communities. Help spread awareness and raise our target of $100,000 for our brilliant charity partners below. Take Pride in your skincare and order your Pride Lemon Rescue Butter today!
About the Product:

Lemon Superfood All-in-one Rescue Butter is a multi-purpose, high-performance butter which can be used as a moisturiser and treatment. The 96% natural formulation is packed full of minerals, antioxidants and vitamins that work together to rejuvenate, renew and invigorate dull and dry skin. What's more, it absorbs easily and doesn't leave that sticky residue. 
Benefits / Ingredients:
Vegan certified Dr. Botanicals products, are made only of natural ingredients. Never tested on animals, this range embodies our belief in the potent power of botanicals.
How to use:
Morning and night, we all want radiant skin. Follow our 3 steps to help you achieve that glow - we can't wait for you to see the results
Step 1

Take a small amount from the tube
Step 2
Apply to any part of the body 
Step 3

Rub the cream in and leave it to settle