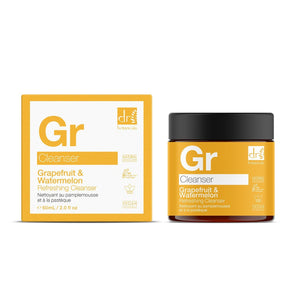 Our Grapefruit & Watermelon Superfood Refreshing Cleanser is the perfect choice for a refreshing daily hit of Vitamins. Rich in antioxidants and natural botanical extracts which gently yet effectively clean, this product helps to prevent imperfections without drying out your skin. Watermelon Seed Oil is fully packed in Vitamins A, B, E and Essential Fatty Acids which deeply nourish and protect your complexion. The Cleanser also works to balance excess oil production and promote a smoother, brighter, and fresher visage through natural nutrients and vitamins!

Key ingredients and why we chose them:
Watermelon Seed Oil is known for its hydrating properties and ability to unclog pores. It can also help reduce sun damage because it contains vitamins A and E, which are powerful antioxidants that fight off free radicals caused by UV exposure.
Grapefruit Peel Oil contains high levels of Vitamin C which can aid in reducing the appearance of skin imperfections and the appearance of oiliness.
Orange Peel Oil is an essential oil from sweet orange, mainly used for its fresh and fruity fragrance.

Experience next generation Vegan skincare with our Apothecary range, for amazing results powered by natural ingredients.

Aqua (Water), Cocamidopropyl Betaine,Coco-Glucoside, Glycerin, Sodium Chloride,Xanthan Gum, Benzyl Alcohol, Coconut Acid,Gluconolactone, Limonene, Citrus Grandis(Grapefruit) Peel Oil, Sodium Benzoate, Citric Acid,Dehydroacetic Acid, Citrullus Vulgaris(Watermelon) Seed Oil, Citrus Aurantium Dulcis(Orange) Peel Oil Expressed, Calcium Gluconate.